How many uses can I find for the Aromatouch Diffused Set?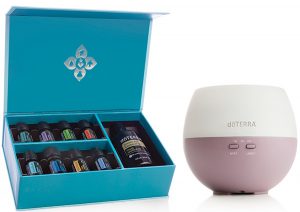 So you're looking at essential oils, but maybe you're not really sure if they are right for you.
My sister was in your shoes a few years ago.  And while with hindsight she can now see that one of the larger starter sets would have saved her more money, she wasn't in a place where she was ready to commit to that.  The Aromatouch Diffused set wasn't around when she got started, but if it had been, it would have been the perfect place to start for her dear skeptic self.
Why?  It has 8 great oils that serve a wide range of uses; it comes with a diffuser (which you NEED), as well as some fractionated coconut oil to make diluting your oils oh-so-simple.
The 8 oils in the kit are: Lavender, Balance, On Guard, Melaleuca, Deep Blue, Aromatouch, Peppermint and Wild Orange
I love that this kit covers some major health & wellness areas: stress & rest, immune support, joint & muscle health, and homeostasis. The are practically endless uses for this kit, but let's take a look at a few that are definite helps to us!
Stress/Anxiety – 

Balance or Lavender in the Petal diffuser or applied topically to wrist pulse points or bottoms of feet. 

 Try several drops in Epsom salts for a relaxing soak in the tub.
Sleep – 

Lavender (and for some, Wild Orange) in the diffuser or massaged onto the bottom of the feet can set the stage for a good night's rest

Sore & tired muscles or joints – Both Aromatouch and DeepBlue can be diluted either together or separately in a roller for easy application to areas of concern. I use 20-40 drops of essential oil in my 10ml rollers, you can adjust to what works well for you.
Muscle tension – Again, either Aromatouch or Deep Blue shine here.  I'd probably start with Deep Blue (just because it's my personal fav for muscle tension)
Circulatory/Nerve support – Aromatouch SHINES here.  Have issues with that "pins & needles" feeling? Regular massage with diluted Aromatouch.
Legs keep you up at night? Massage with diluted Aromatouch before bedtime
Immune Support – 

OnGuard

 is amazing to both keep you healthy and to help you deal with any crud that comes your way. It can be used topically (diluted – we use a 10ml roller and roll onto the bottom of our feet), in the diffuser, or internally in tea, honey, or even a veggie cap. Melaleuca is also an immune super star
Skin Care – Both Lavender and Melaleuca can help soothe skin issues – from bites, burns, and scrapes to re-occurring irritations.  A few drops of each in coconut oil can cover a huge variety of needs.  Love these two for soothing any kind of bug bite.
Cleaning Products – On Guard, Melaleuca, and Wild Orange are all great ingredients for DIY cleaning products that help remove some of the harsh chemicals we find in traditional products (that can cause breathing issues, allergic reactions, hormone disruptions and more)
Energy and Focus – 

Wild Orange and Peppermint are amazing additions to the diffuser when motivation is waning , and fatigue & brain fog are settling in.  Peppermint has literally saved my life (keeping me awake and focused behind the wheel)

Tummy troubles – Peppermint is a pro at soothing stomach upsets and Wild Orange comes in a close second.  Internally or diluted topically on the abdomen, either one of these oils will help soothe the discomfort.
Occasional Headaches – 

Peppermint is my go to for this one – or Deep Blue if it's related to tension. Diluted on the temples or back of neck as often as every 15-20 minutes.  You can also try a small amount of peppermint on the roof of your mouth.
Is this right for you?
Take a moment and write down your top 5 health concerns and then look back through the above list.  How many of them are addressed in some form? (No, this isn't a voodoo miracle cure. BUT they will soothe and support and help your body do its thing a little better) If something's not listed, then let's chat and see if it's just not on the list or if there are some other oils/products that might serve you better.
So, you've determined that YES, this is right for you. SOOOO EXCITING — because getting this set is just the beginning.
The set is $180 CDN, which on it's own is a great value.  But you get a lot more.  A one year 25% discount on all oils and products, access to private Facebook groups packed with help and support, one on one help from me, access to an amazing optional monthly ordering program designed to save you even more $$$.  AND a fab personalized welcome gift from me.
If you're ready to go, follow these simple steps:
Click HERE to add the Aromatouch Diffused Set to your cart and click "Review Order" and then "Continue to checkout"
Head to check out where it will ask if you'd like to become a wholesale member *YES YOU DO!
Double check that you see me, Marie Berwald (AKA Empowering Wellness) #279416, as your enroller.
Fill out the required information.
I'll contact you within 24hours to get you set up in our Facebook groups and get your welcome gift out to you
Want to chat first? Schedule a free 30 minute consult by messaging me at 306-502-5477 or marie.berwald@birthbliss.ca