What if…
You could stretch, move and exercise with your baby?
You knew baby massage, for bonding and physical comfort?
You could strengthen your post-birth body while spending quality time with your baby?
Mom and Baby yoga will be prefect for you.
"I found your class very rewarding for my baby and I.  I know now how relax and do yoga stretches to relieve pain in my lower back as well as breathing the right way and strengthening my core.  

I really do feel more connected to my baby thanks to you and all the other girls during the discussions each week. Yoga has positively impacted my life mentally, spiritually, and physically.  Thank you again!" Jackie Wagner
After your baby is born, take time to move, stretch, tone and celebrate this new life.  This class is filled with love, peace and fun. We pay special attention to regaining core strength while at the same time allowing you a special time to be completely present with yourself and your baby.  Plus you'll learn postures that stretch those tense areas like your back and shoulders.
Your baby will love yoga too. They will learn baby yoga moves as well as infant massage.  Baby gets to experience loving touch and build neutral connections at the same time. You learn another way to connect deeply with your infant.
Mom and Baby Yoga:  times, location and cost
"It was absolutely wonderful! Amazing how the little ones can enjoy being part of the practice, too."  Anna Baker, mom to Charley

Spring Mom & Baby Yoga Session:
Tuesdays 1:30pm to 2:45pm April 16 to June 18,
Spring Session Cost: $150 plus GST = $157.50 (10 weeks of classes)
Location : Classes at held at Every Day Sacred Centre, Lower Level of the River Heights Shopping Mall, corner of Regina Ave and Montague St.
How To Register :
1. Complete the studio's Registration and Health Form
2. Make Payment via e-transfer to studio owner Kelly Green (green.k@sasktel.net) and use password livingyoga1 and in the message area of the etransfer – please note mom and baby yoga. 
Answers to Frequently Asked Questions About Mom and Baby Yoga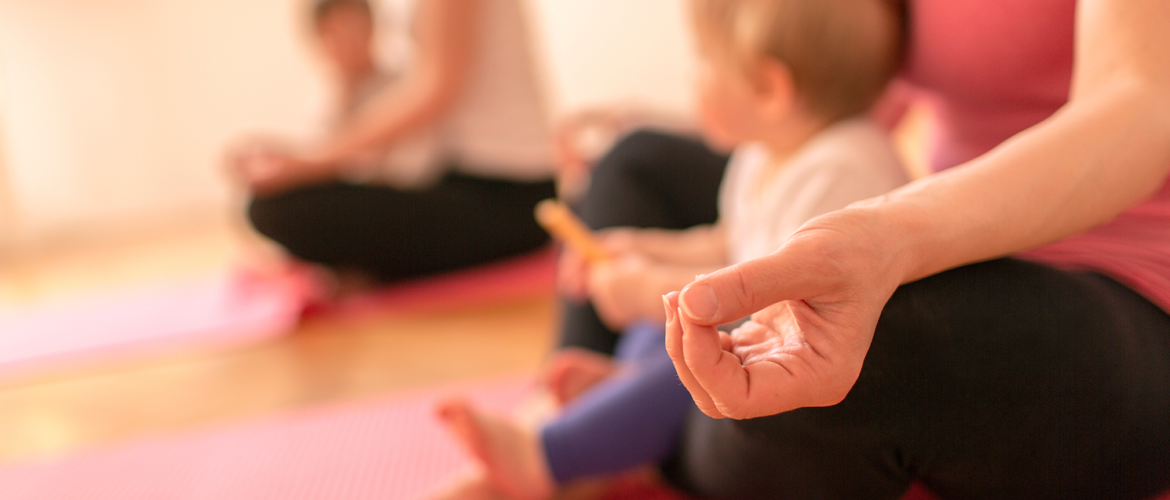 If you have any questions or if the session has already begun, please contact me by phone or email and we will work something out like a partial session registration.
"I have been attending Mom and Baby yoga since Mya was 5 weeks old. She is now almost 9 months. I absolutely love going. I feel I am building a closer bond with her when I am there. It is a time set aside every week that is just for me and her. No phone calls, no dishes, no laundry, just us. The babies interact and love the yoga. Whenever we leave Mya babbles as if she is telling me all of the stories from yoga. I have made wonderful friends, toned up my post-partum body, relaxed, bonded with my baby, and had a great time doing it all. I would recommend it to anyone!"  Lindsay Roysum, mom to Mya
Benefits of Mom and Baby Yoga
Recuperation and toning after birth
Strengthening and stretching upper body for nursing, lifting and carrying baby
Deepen your bond with your baby
Learn infant message. This provides them with a wonderful balance of outgoing and incoming energy, of tension release and simulation.  Full discussion of infant massage benefits.
Assist you in adjusting to your new life with discussion and information on community resources
Practice mindful parenting
"What I liked best was the opportunity to connect with my baby through shared poses, relaxation and massage. I also really enjoyed interacting with other moms and their babies, which have become an important support network for us. I would recommend all moms take a yoga class with their babies to help learn to relax and ease their anxiety in those early months of motherhood, and to create long lasting friendships with other mothers." Kim Statler, mom to Lily