Are some of these statements true for you?
"I want a natural birth. I don't want to be medicated when I have my baby."
"I never thought having a baby would be so complicated! There's so many tests and scenarios being presented to me that are frightening."
"I've had a good pregnancy, but people keep telling me horror stories about their labours and what happens in the hospital. As much as I try to ignore them, it makes me nervous."
"I want my husband to share the birth experience, but right now he's feeling kind of removed and helpless even though I know he wants to support me. He thinks all I'm going to do is yell at him during the labour and that he'll pace in the hallway- he's watched way too many sitcoms. We heard HypnoBirthing® really involves the dads."
"My first labour experience was a nightmare. I felt like I had no control over what happened and just survived the process. My husband and I are determined to find a better way."
"My friend had a wonderful, drug-free birth experience that she seems transformed by. She told me that I had to learn HypnoBirthing® when I got pregnant. And her baby is so sweet-tempered. She credits the class for that too!"
"Women have been having babies since the beginning of time. Instinctively epidurals just don't make sense to me."
"How does this… get out of that? Help!!!"
HypnoBirthing® is a safe and amazingly effective way to have a relaxing and calm natural childbirth. This unique childbirth preparation addressed these concerns so that you can focus on having the positive birth experience that you want.
Watch this video clip and just how wonderfully hypnobirthing works.
"The birth was the most beautiful and empowering time I will ever have in my life."  Laura England, mom to Myla
HypnoBirthing® will help you to trust in your body, your baby and the remarkable process of birth. It combines the best of natural childbirth education with hypnosis. By replacing fear and tension with deep relaxation, you do not have to experience acute pain during birth – the natural process of birth works best when you are sufficiently relaxed. HypnoBirthing returns birthing to the beautiful, peaceful experience nature intended.
Through the classes, you will learn proven techniques for relaxation, visualization and breathing that allows you to enter a state of self-hypnosis. While in this state, you will birth your baby in a more comfortable manner: alert, relaxed, free from harmful drugs.  The Scientific Research confirms that preparing for birth in this way is associated with shorter labours, fewer invasive interventions, and a significant reduction in the need for any pain medication.
"Thank you very much for such a wonderful, inspiring birth class. We enjoyed every minute of it, & knew it would fit us and our philosophies. What an honour to heave the option of such an amazing class here in Regina." Erinn and Mike Knoll
In fact, many women experience little or no discomfort during their labour.
It sounds incredible but it's true… click here read some of the birth stories and learn for yourself, attend our birth stories night OR…
Come A Free HypnoBirthing Information Session
In the session I will explain how this wonderful program works.  You'll also have an opportunity to see and experience examples of how you can tap into the power your mind to create a change in your body.
When:  Sat Oct 20 , Oct 27 , Nov 17, Dec 1, or Dec 15 at 10:45am
Where: Every Day Sacred Yoga Studio, lower level Riverheights shopping center, corner of Regina Ave and Montague St. Map
To Register:  There is no cost for this event, however preregistration is preferred.  You can preregister by clicking on the date above to reserve your spot. If you have any questions, please email me at marie.berwald@birthbliss.ca
Can't make that event – but want your question answered?  Check out the FAQs – chances are someone else is wondering about the same things as you!
"I think the most beneficial thing was learning to trust myself, my body and the baby and coming to truly believe in the immense strength within us both. Yours was the little voice in my head during labour, helping me to stay calm and trust the process and I wanted to make sure you knew what a positive impact you had on the birth and life of baby Gaia. Thank you so much!"   ~Risa Payant, mom to Gaia
What Makes HypnoBirthing With Marie Unique?
I have over 10 years experience teaching women the hypnobirthing techniques.  This depth of experience allows me to easily adapt the practices so that they will work for you and your individual needs.
Deep training in self hypnosis.  As a trained hypnotist, I'm able to take you a step deeper into the mind training that you will use to birth your baby.
Acupressure – I'll teach you and your partner how to use acupressure points during labour to increase your ease and comfort.  This marvellous tool is not a part of the hypnobirthing curriculum, it's unique to my class.
Essential Oils.  These are another powerful tool for shifting the mind and the body into the relaxed parasympathetic side of the nervous system.  During the course, you'll be creating your own signature relaxation blend, which you'll use to instantly anchor yourself to your deeply relaxed state.
Baby Care Class.  The hypnobirthing curriculum ends with birth, but most expecting parents realize that birth is just the beginning of your journey.  In the bonus 6th class, the baby care class, we focus of the stuff that makes the biggest difference to as new parents (stuff you don't learn anywhere else).   How to make breastfeeding easier, and how to understand your baby's cries so you can more easily meet their needs, and how to soothe them so they needn't cry.  The approach for all of this is (just like with hypnobirthing) that when we learn to work with built-in systems of the body, and everything goes so much more smoothly.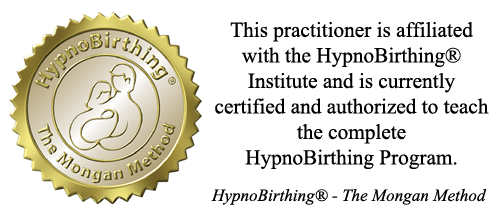 HypnoBirthing® is taught in a series of 5 weekly classes. Each class is approximately 2 1/2 hours.
For Group classes, the total program cost is $342 (with GST the total comes to $360) including course materials comprising of a textbook, relaxation and visualisation CDs, and handouts. These classes are held at my HypnoBirthing studio in the east end of Regina, SK. Class size is kept to 7 couples to ensure that you receive the attention you need.
For Private classes, the program cost is $526 (with GST the total comes to $550) and classes are held at my office. A private class offers more scheduling flexibility, if you are unable to make a weekly evening class.
Note : If you live out of town or are not available for weeknight classes, please get in touch and I will pair with another couple so that you can received the group rate and we'll figure out an alternate schedule.
"Being somewhat skeptical of hypnobirthing I have certainly changed my mind after seeing our daughter born. The birth was very calm and mom seemed almost too relaxed, even without an epidural or any medication. The labour was extremely fast and our daughter had no marks, scrapes, bruises or any problems and neither did mom. I would strongly suggest hypnobirthing to anyone, and already have to some family expecting family members." Jared Ward
Upcoming Classes
Check the Class Schedule to Find When Next Class Is Scheduled.
Take a peak at the Course Outline to see what you'll be learning in each module.
"Thanks again for all you've done to help make Jordyn's birth such an empowering experience. I feel forever grateful that you do what you do." ~Cheryl Loeppky, mom to Payton and Jordyn.
HypnoBirthing works so well it's been taking a fair amount of press.  Read about Hypnobirthing in the News!